Download our 2023 catalogue
We invite you to discover our 2023 collection of ice creams, frozen desserts and pastries for foodservice professionals.
For this collection, we dedicated our know-how to the innovation with beautiful new products in line with the trends and expectations of professionals and their customers.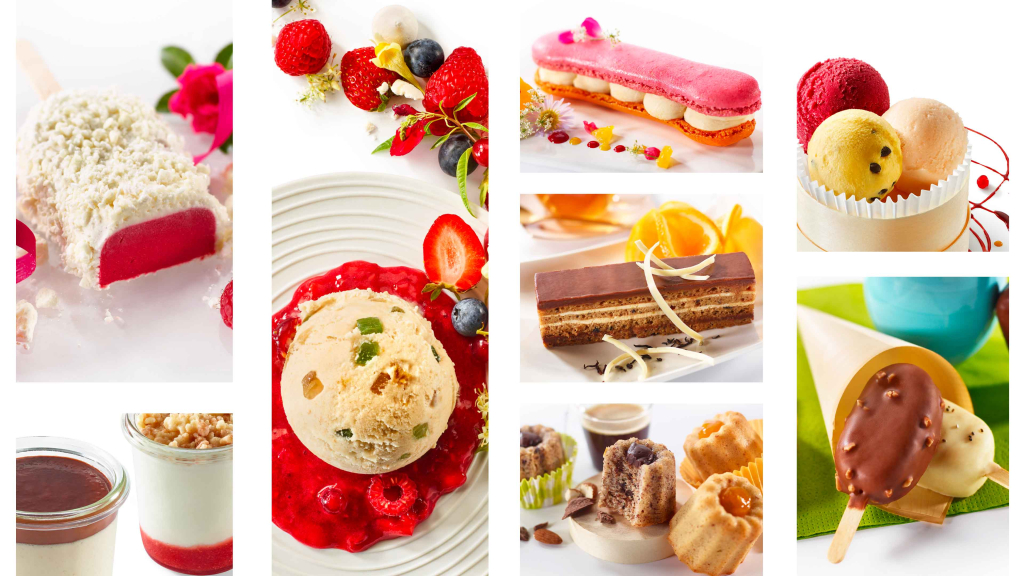 In the ice cream Collection:
The integration of the organic range of ice cream and sorbet from Philippe : because at the origin of our ice cream, there is nature. "Behind every flavour, there is a work of creation, time, air from our Ariège mountains, water from Mont Valier and milk from cows from our French regions. It takes all this to make a good ice cream!"
New 2.5L tubs: Coco & curry, Coffola grand cru, Traditional Christmas sweet bread "panettone", Armagnac and plums and Roquefort cheese.
New original creations on the ice cream displays range : Fôret noir, Fior di latte and caramel, Fior di latte and lavender, "Panda", Triple caramel, Peanut chocolate.
In the frozen fessert Collection:
5 creations:  Sicilian cassate puck, eski vacherin, raspberry vanilla vacherin, rocher ball and sakura mochi
In the pastry Collection:
New pastries in our Low Glycemic Index (LGI) range which aims to increase pleasure while lowering sucrose levels. We replace white flours and prefer a short list of ingredients. 3 new pastry recipes to discover: Hazelnut and mandarine chou, Earl grey Opéra, and the buckwheat and pear sponge cake.
Original creations for on-site dinning: the citrus mac'éclair and the exotic secret signed by Chef Philippe Urraca Pastry, MOF, the chocolate lava cake Ghana origin, the concorde, the chesnut cheesecake and the apricot and cherry moelleux.
Creations designed to take away: chocolate tiger financier, mango and passion tiger financier, lemon and chocolate eskis, carrot cake finger, hazelnut chocolate madeleine, dark chocolate chip cookies and white chocolate and caramel pecan cookies, hazelnut chocolate muffin, the mascotte, the marshmallow and cookie doughnuts, the chocolate lava cake and biscoff cheesecake in glass jar and the babka to share.
New flavours of macarons: Earl grey macaron and coffee macaron.
The entire sales team is at your disposal for any further information.