MANGO GINGER SORBET, CHIOGGIA BEET, SHRIMP WITH SESAME AND VERVAIN LEAF
6 June 2019
|
Recipe ideas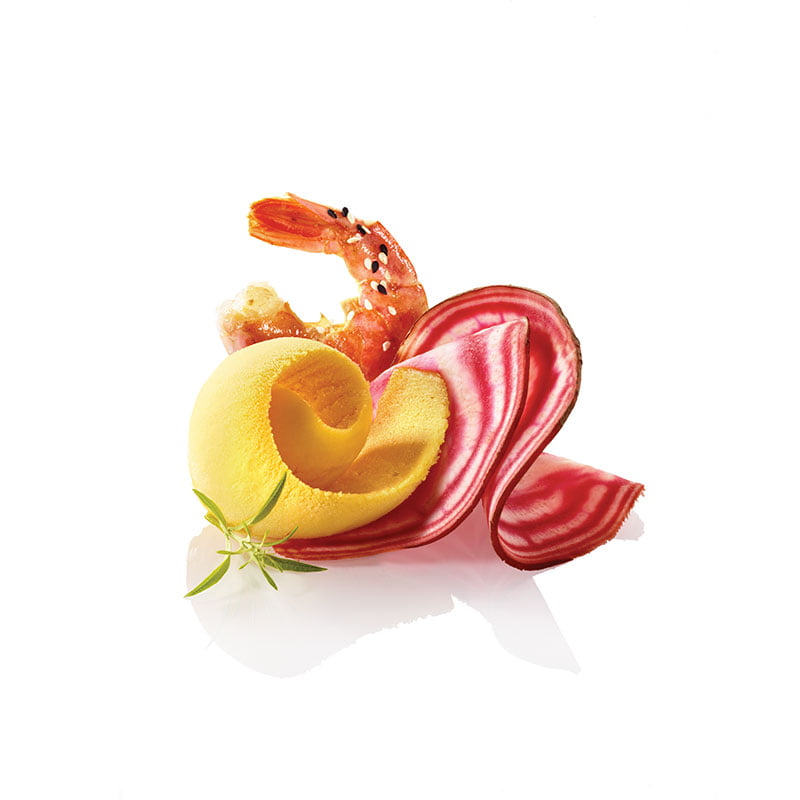 • Ginger and mango sorbet (on request) – 93109 *
• Shrimp or prawns
• Sesame
• Fresh ginger
• Chioggia beetroot
• Butter
• Olive oil
• Leaf of vervaine.
Marinate in advance the shrimp tails with chopped fresh ginger. Cut with a mandolin the beetroot into thin strips.
Fry the shrimp in a mixture of oil and butter (beyond the taste, the oil allows the butter to burn less quickly) and add the sesame at the end of cooking.
On the plate, place two slices of Chioggia by folding them to give volume, prick with a toothpick and add shrimp.
Just before serving, add the mango and ginger sorbet to crumble and decorate with verbena leaves. It is possible for a more pronounced taste to marinate shrimps with a little teriyaki sauce.