PISTACHIO, ALMOND AND HAZELNUT SORBET TRIO, IN A SHORT CUT PASTRY SHELL, MENDIANT AND CANDIED DRIED FRUITS
6 June 2019
|
Recipe ideas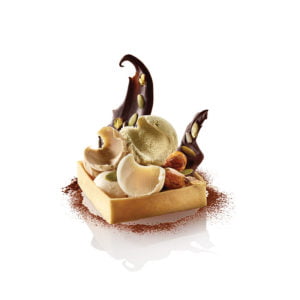 • Pistachio Sorbet  – 93105*
• Almond sorbet – 93106*
• Hazelnut Sorbet- 93107*
• Square short cut sweet tart shell 7×7 cm – 96631
• Mendiants (chocolate and dried fruits)
• Dried fruits (almonds, hazelnuts, pistachio…)
• Isomalt or sugar.
On a sulfurize sheet, Place a few touches of tempered chocolate and add the dried fruit, let it cool.
Cook the Isomalt or sugar up to a blondie colour, soak in hazelnuts and almonds, remove them individually to cool them.
To serve, garnish the tart shell with the three sorbets and decorate with  fresh almonds and caramelized dried fruit.
To make things easier, use caramelized peanuts and some pistachios.
*On demand