RICE PUDDING ICE CREAM ON EXOTIC COULIS AND SPICES (CINNAMON, CARAWAY, TURMERIC, ROSE PEPPER, STAR ANISE, SWEET PAPRIKA)
6 June 2019
|
Recipe ideas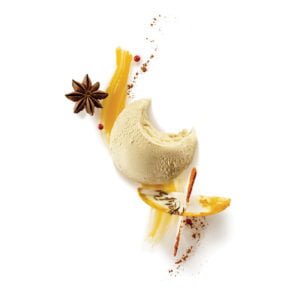 • Rice pudding Ice Cream – 93108*
• Exotic coulis – 66063
• Spices (cinnamon, caraway, turmeric, rose pepper, star anise, sweet paprika)
• Azyme leaf
• Butter or white chocolate.
Cut in different shapes the unleavened sheet, dip it in butter or melted white chocolate and soak in spices.
Draw a combed line of exotic fruit coulis, place a rice pudding ice cream shaver, some spices and pink berries, and finally the pieces of spicy unleavened leaf.
*On demand