BASE OF VEGAN CHOCOLATE ICE CREAM, CYLINDER OF VEGAN COFFEE ICE CREAM, ON AN ALMOND MILK BASE, CANDIED SQUASH AND COFFEE BEANS, STEVIA LEAVES AND COCONUT CHIPS
6 June 2019
|
Recipe ideas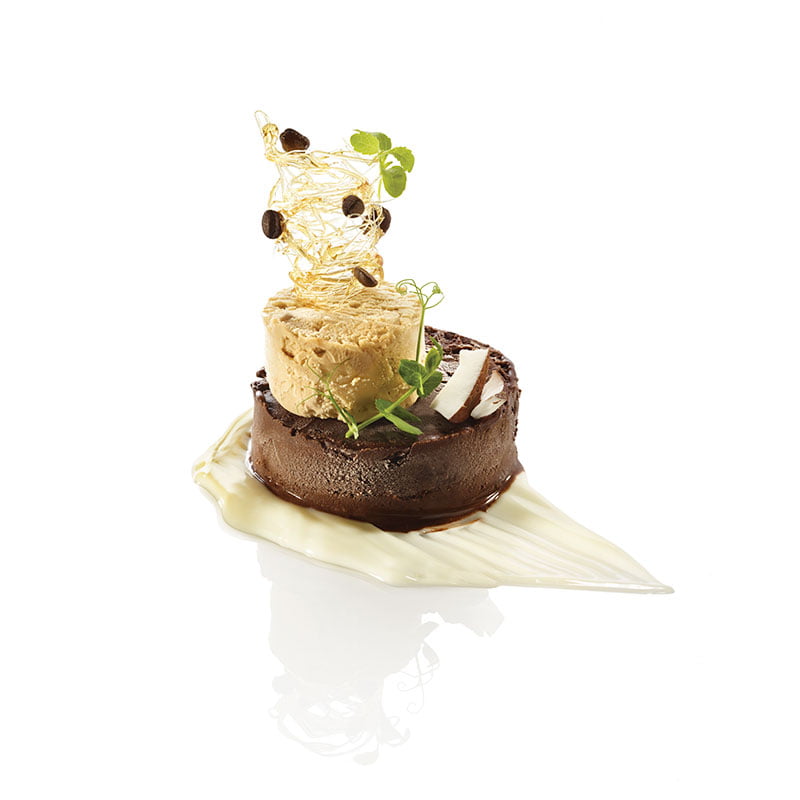 • Vegan coffee Ice Cream – 93103
• Vegan Chocolate Ice Cream – 93102
• Stevia (aromatic herb with a sweet sharp taste)
• Coffee beans
• Fresh coconut chips
• Sugar / Isomalt
• Almond Puree
•Almond or soya milk.
Place the ice cream on a plate with two centimetres depth.
Use cylinders of different diameters to make ice cream disks and keep in the freezer.
Prepare candied squash with coffee bean inclusions.
Dilute the almond purée with a little soy or almond milk, paint with a brush the bottom of a plate.
Place the cylinder with the chosen Ice cream and top with candied squash.
Decorate with stevia leaves and a few shavings of coconut.
For candied squash use isomalt which is less sensitive to moisture.